EXOTIC HARDWOOD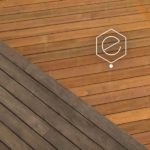 The walking surface of our decking structures are usually composed of exotic hardwoods, like garapa or ipe.  Ecotopes has prepared instructions for caring for these surface materials here.
DESIGN SUPPORT
Decking can be an outstanding way to formalize an outdoor space for a wide variety of activities, such as dining + entertaining, or just relaxing to take in the views.  Boardwalks can be suggested for connecting spaces across rough terrain.
Decks + boardwalks are also a mechanism for defining hierarchy in outdoor surfaces.  For example, the deck/boardwalk could be used to define the high-level surface or the focused satellite structures, where gravel surfaced components are secondary (or vice versa depending on requirements).
PORTFOLIO RESULTS
Projects that feature decking component(s):