ELEMENT DETAILS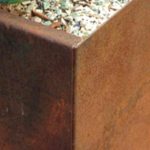 Most of our built-in planters are made from steel, which provides outstanding strength, service-life + versatility.  Exposed to outdoor conditions for just a few months, steel rusts over, largely sealing itself off from the elements.
DESIGN SUPPORT
An affixed planter provides a planted area with elevation + containment.  This planting structure enhances the utility, beauty + hierarchy for the design location in the landscape.
Used in repetition, a series of planters can create a pattern + rhythm within the appearance of a garden.  Used in isolation, a single planter can become a focal point that provides signature emphasis to an important garden destination.
PORTFOLIO RESULTS
Projects that feature planter(s):