MATERIALITY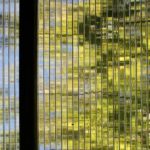 The substructure of most of ecotopes' shade structures is steel.
Depending on the objective of the shading, which can be any combination of protection from sunlight to rainfall to neighbors' views, structure surfacing can be specified to match.
Polygal or corrugated steel is perfect for shedding water, whereas expanded steel or a vegetated trellis are great countermeasures for sunshine + privacy.
DESIGN SUPPORT
Shelter in the landscape provides an upgrade to the comfort of a space, often providing an amenity to social gatherings, food prep + outdoor dining. In sunny spots, the shelter that often needed is from the bright sun, but a structure in the shade of trees needs shelter from tree litter + rainfall, so surfaces below are protected.
PORTFOLIO RESULTS
Recent projects featuring shade structure(s):
No Results Found
The page you requested could not be found. Try refining your search, or use the navigation above to locate the post.